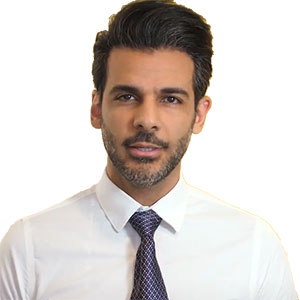 Dr. Adam Shoukry
Dr. Shoukry is a renowned Long Island dentist and an experienced general and cosmetic dental practitioner in Rockville Centre. He focuses on delivering highly functional and remarkable esthetic results. Well known as one of the top Nassau County specialists and among the best-rated dentists in Hempstead, he specializes in correcting bites using clear Invisalign braces and all spectrum of cosmetic dentistry procedures, including veneers, bonding, teeth whitening, and a full smile makeover. He emphasizes functionality and an aesthetically pleasing result with minimal discomfort. To give back to the medical community, Rockville dentist and leading expert Dr. Shoukry actively participates in the training and proctoring residents, physicians, and the top-rated local dental practitioners. He treats a wide array of dental conditions, including tooth pain, decay, infections, and broken teeth. Dr. Shoukry and his team of dentists look forward to meeting you and helping you with your needs.
Our team of the best dentists in Rockville Centre, NY is always grateful for feedback from our valued patients. We encourage you to describe your experience at our South Nassau Dental Arts dentistry center and leave feedback on Google, Yelp, and other platforms.
★★★★★
Very friendly staff
Very friendly staff and clean facilities. I have had an aversion to dentists due to negative past experiences (i.e., I have sensitive gums and often find my dentist visits painful) – the team at South Nassau Dental really put me at ease. I went for my first visit to get a routine cleaning and X-rays, I left with a smile 🙂
Ashley M.
★★★★★
Dr. Shoukri and his staff are the best
South Nassau Dental Arts has been my dentistry for close to if not more than 10 years. The professionalism and friendliness of the receptionist to Dr. Shoukri and his staff are the best. They and they referring doctors if certain procedures are needed have also been fantastic. I would highly South Nassau Dental Arts for anyone in need of a dentist
Mike K.
★★★★★
Truly magnificent work
Truly magnificent work. 10/10 would recommend. I will definitely be coming back for more tooth art. Thank you so much.
Soella
★★★★★
The facilities and equipment are ultra clean
Dr. Shoukry and his entire staff are so friendly and professional. The facilities and equipment are ultra clean and well kept. Highly recommended.
Richard Z.
★★★★★
Office is excellent
I am not a doctor/dentist person at all. With that being said this office is excellent. Right off the bat they actually take you when your appointment is. Everyone is very friendly and thorough in explaining what they are going to do next. If you need a dentist I highly recommend this practice.
Bill G.
★★★★★
Always professional, friendly, efficient
South Nassau Dental Arts always professional, friendly, efficient. Have been going to these guys for a while until they stopped participating with my then insurance provider. Upon obtaining a new insurance carrier this past July, signed right back with South Nassau Dental Arts
Curtis M.
★★★★★
Utmost professionalism
This office has always been accommodating with regards to scheduling and care. They have been my dentists for quite a while and they always approach my care with the utmost professionalism.
Edwin M.
★★★★★
Office is clean, modern and safe
If you are looking for a personal experience this is the place! Dr. Shoukry is so kind and gentle, the office is clean, modern and safe. I had a great experience and my smile has never looked better! I highly recommend South Nassau Dental Arts.
Mary C.
★★★★★
Best dental experience ever
Best dental experience ever. Professional and very clean office. Everyone from the receptionist to the hygienist to the dentist are amazing. So friendly and patient. You can even watch TV while getting work done on your teeth!
Nora S.
★★★★★
Very patient and informative
I met with Dr. Shoukry and he was very patient and informative. He answered all my dental questions throughly while using his advanced technology to take photos of my teeth to help me understand what was going on. Christine at the front desk was also so helpful. Would highly recommend this practice.
Lisa M.
★★★★★
They work quickly and efficiently
I have not been going here for long, but the experiences I have had so far have been great. They work quickly and efficiently and I left feeling very satisfied with the job that they did. The staff was very kind and helpful.
Rachel C.
★★★★★
Excellent Dentist office
Excellent Excellent Dentist office. Dr. Shoukry is a great guy and a wonderful Dentist. His partner Dr. Russo moved to Maine so it's just Dr. Shoukry now. The office is clean and modern. The staff and Dr. Shoukry are patient, friendly, knowledge and make you feel comfortable and at ease. If you're looking for a Dentist, look no further, you'll be glad you came here.
Rich S.
Our dentists can handle any dental procedure you require with experience and a trained eye for detail. To schedule an appointment with the team of best-in-class practitioners led by Dr. Shoukry, call us at (516) 763-4500.