A beautiful, healthy smile is a valuable asset, and it can be devastating when you lose a front tooth. Unfortunately, front tooth loss is very common, as teeth can be knocked out due to sporting accidents or other trauma. They can also become significantly decayed or infected and require extraction. People missing a front tooth will often try to hide the gap by smiling with their mouth closed or hiding behind their hand. Because a front tooth is right in the smile line, it's important to consider aesthetics, and while alternative options are available such as a bridge or dental flipper (a one tooth denture), these can be less than ideal.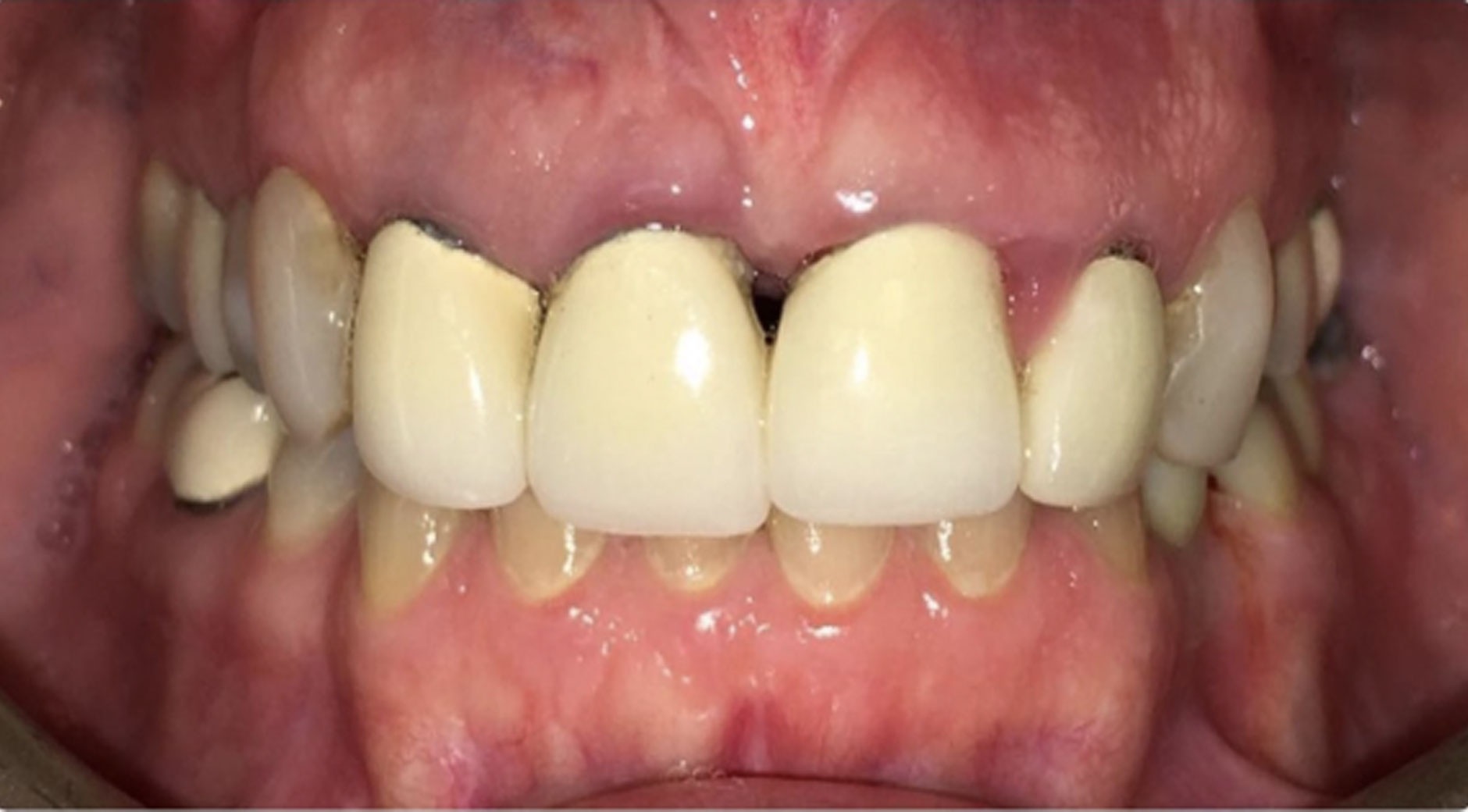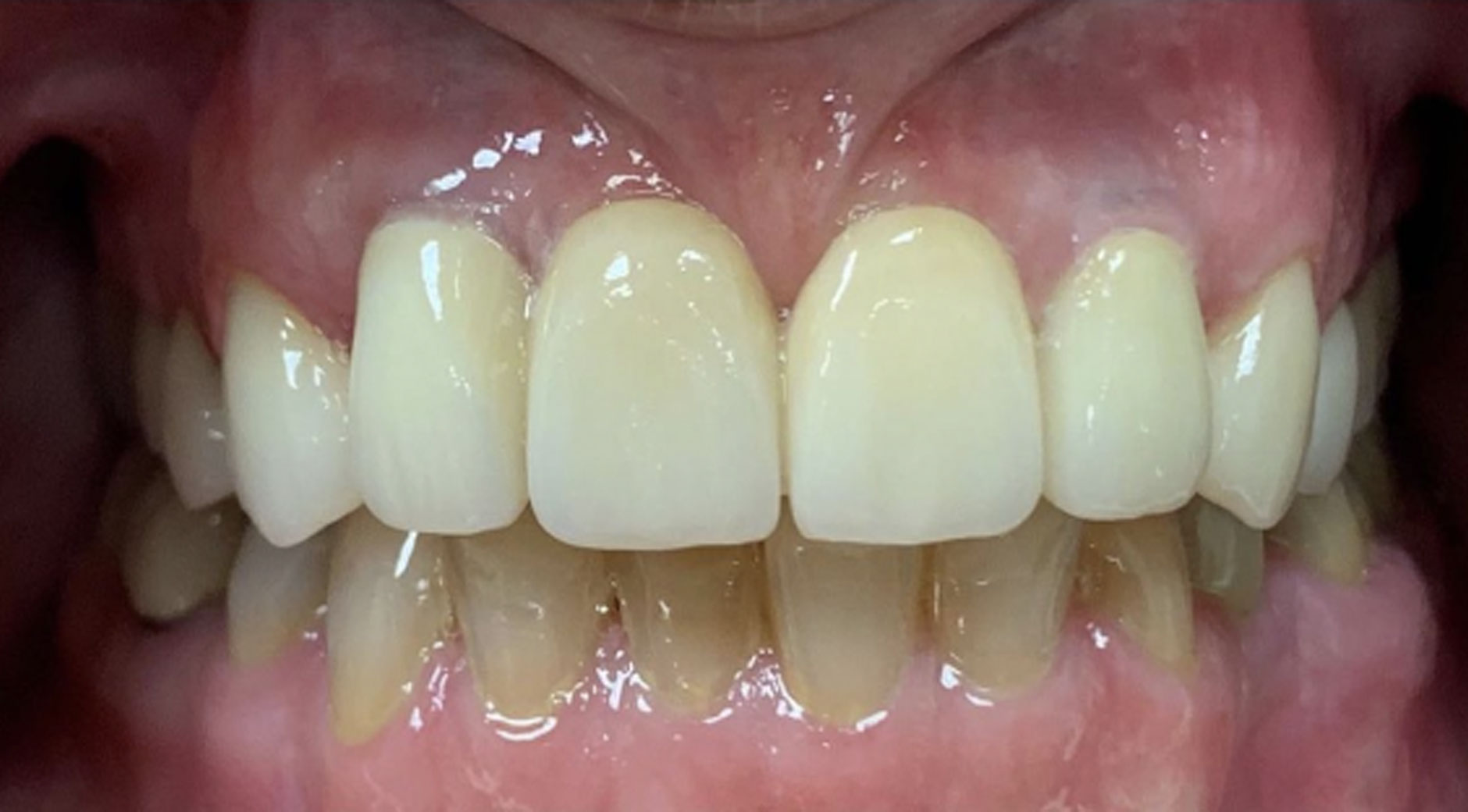 What Are the Advantages of Choosing a Front Tooth Implant?
One of the major advantages of choosing a dental implant to replace a front tooth is improving your appearance.
A dental implant tooth is self-supporting, providing the most natural-looking restoration that looks exactly like a real tooth as it emerges from your gum.
Because the tooth is self-supporting, it positively impacts the adjacent teeth, ensuring they cannot shift position. At the same time, there is no need to modify these adjacent teeth, protecting and preserving them.
A front tooth implant is a cost-effective long-term solution.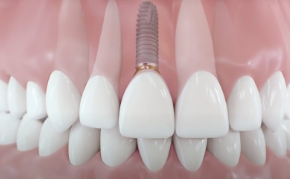 Most importantly, dental implants help protect your jawbone. The entire tooth is extracted when you lose natural teeth, including the tooth root. Usually, the tooth root provides valuable stimulation to the bone surrounding it, ensuring that when old bone cells die, they are replaced. Stimulation is lost when the tooth root is removed, and the jawbone quickly resorbs. The loss of jawbone can destabilize adjacent teeth and may create unsightly gaps underneath dental bridges. Because an implant closely replicates a real tooth root, it prevents jawbone loss and ensures the bone surrounding it remains strong, healthy, and stimulated.
A dental implant front tooth is a tried and tested solution that provides a predictable treatment outcome. An implant tooth can last for years with the right planning and placement combined with the proper after-care. You may even enjoy your front implant tooth for life.
Who Is Suitable for a Front Tooth Implant?
Most people are suitable for dental implants, provided you are over age 18, and your jaws have finished developing. It's not uncommon for children to lose front teeth due to sporting accidents or where teeth may be congenitally missing. In this case, they will need to wait until their jaws are fully grown before they can have dental implants. Adults wishing to have a dental implant front tooth must have good dental and medical health and shouldn't have any signs of active gum disease or other dental issues.
What Is the Procedure for a Dental Implant Replacing a Front Tooth?


The procedure to replace a front tooth with a dental implant will require several visits to our practice. Initially, Dr. Shoukry will need to carefully evaluate your dental health and review your medical history, including information about any medications used, as these can sometimes affect the prescribed treatment. At this stage, Dr. Shoukry can discuss treatment with you, answer your questions and provide an estimate of the front tooth implant cost.
Please bear in mind this is just an estimate and may change once you have diagnostic tests. Factors that can influence the costs include whether you have a tooth that needs removing during implant surgery. If you do, we may be able to remove the failing tooth, replacing it with an implant immediately. Another factor that can influence costs is whether you need a bone graft before surgery. This can be necessary if you lost the front tooth some time ago or had severe periodontal disease that has destroyed bone.
The diagnostic tests required will include digital dental x-rays, and we will almost certainly need to take a cone beam CT scan. The scan provides 3-D images of your teeth and jaws so we can assess the quality and quantity of your jawbone more fully to make sure it is healthy and strong enough to support the implant. Our oral and maxillofacial surgeon uses the diagnostic images to create your custom treatment plan, determining the exact position for your implant right down to its depth and angulation. Once our oral surgeon has completed your treatment plan, a surgical stent is created for use during surgery. It guides the surgeon, ensuring the plan is replicated accurately.
Patient's
Success Stories
★★★★★
Excellent work
I've spent years reasearching dental implants. I've very much made the decision to go with Dr. Russo. I'm grateful for Dr. Russo's patience and the excellent work he did, and I love the way my new front teeth look.
Melissa
What to Expect When You Have a Front Tooth Implant?
Because the procedure is preplanned, the surgery for inserting the implant is typically quick and very smooth, taking less than an hour to complete. We can often place a single dental implant using just a local anesthetic to ensure you feel comfortable, but if you feel anxious or nervous, please ask about additional sedation.
Once the implant is in place, it needs time to heal and integrate with the bone around it, which takes several months to complete. We may cover up the implant to ensure it cannot be disturbed. Alternatively, it might be possible to fit a temporary implant tooth soon after surgery. The temporary tooth is merely for cosmetic purposes and is designed so it will not meet the opposing teeth and is not suitable for biting. When it isn't possible to fit a temporary tooth, we can provide another temporary prosthesis to restore your smile during healing.
What to Expect While a Front Tooth Implant Heals?
Placing a front tooth implant is very quick and relatively non-invasive, and once the anesthesia wears off, it's not uncommon to feel no discomfort. If you experience any discomfort, it should be easily controllable using over-the-counter painkillers. Before you go home, we will review instructions on caring for your implant while it heals. We might recommend you use an antimicrobial mouthwash for the first week or prescribe antibiotics. We will also discuss which foods to eat as it is important to make sure the implant remains undisturbed during healing.
Fitting Your New Implant Crown
When healing is complete, you simply return to our practice so we can make and fit your permanent implant tooth. We always take tremendous care when designing implant teeth to make sure they look and feel natural, especially when restoring a front tooth. You can rest assured that your front tooth will look and feel very real and look as good or even better than the tooth it replaces.
How to Care for a Front Tooth Implant?
You do not need to do anything special to care for your front tooth implant, as it can be brushed and flossed exactly like your natural teeth. However, it is important to keep it clean and floss around it thoroughly each day to remove plaque and food debris that could otherwise cause an infection in the surrounding gum and bone. Make sure you continue to visit us for regular checkups and cleanings, where we will use special tools to clean around the implant post thoroughly. This simple routine should keep your implant tooth looking and feeling strong and healthy for many years.