Invisalign is extremely popular worldwide, producing predictable and excellent results that can last for life with proper after-care. Visit us in person or schedule an appointment with the top-rated dentist Dr. Shoukry, who specializes in teeth straightening using Invisalign clear aligners. As a certified provider of Invisalign, he is an expert in correcting gaps, overbites, underbites, crossbites, and uneven bites.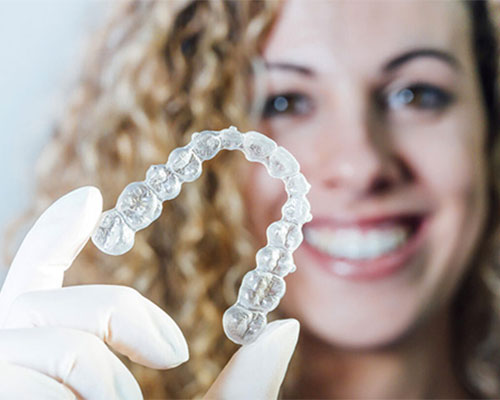 When you think of braces, it often conjures up an image of metal brackets attached to metal wires and often with brightly colored elastics. Traditional braces are still widely used because they are highly effective and provide excellent results.
However, while such visible braces may be great for children and teenagers, they are less appealing for adults. Thankfully orthodontics technology has improved significantly over the past few years. Nowadays, more and more adults straighten teeth without braces using Invisalign invisible aligners.
What Is Invisalign?
Instead of fixed brackets and wires, Invisalign uses a series of removable clear aligners made from clear, BPA-free plastic.
These trays are very thin, fitting tightly yet comfortably over the teeth. Once in the mouth, they are virtually invisible unless you look closely, at which point you might notice a slight halo effect around the teeth.
How Does Invisalign Work?
This invisible braces system works using a series of aligner trays, and each set of trays is worn for two weeks. After the two weeks are up, you simply discard the trays and begin wearing the next set in the series.
Each set of aligner trays is custom-made to apply exactly the right pressure on teeth, precisely moving them into the correct positions. Treatment continues in this way until your teeth have moved into the positions identified in your treatment plan by your Invisalign provider.
The exact number of aligner trays required depends on the orthodontic problems requiring correction.
Read more:
Invisalign vs traditional braces
Invisalign vs clear braces
When to Consider Invisalign?
Invisalign is worth considering if you have teeth that are out of alignment or rotated or if you have unsightly spaces between your teeth. It can help correct the position of teeth that are overcrowded and overlapping.
Invisalign can correct many common bite problems, including:
Invisalign can even be used to correct more complex bite issues. Sometimes, an Invisalign dentist will place small attachments to certain teeth made from a tooth-colored resin, which helps move teeth more effectively. These attachments are sometimes also called buttons.
Read more:
Invisalign benefits
Patient's
Success Stories
★★★★★
Friendly and professional
Dr Anthony Russo is the best dentist I have ever been to. He totally transformed my life. Fixed my old fillings. Then he recommended Invisalign to straighten my crooked teeth and after veneers. Now I have a confident smile and I am stopped all the time and people comment on how nice my teeth are! Also his staff is so friendly and professional. I live a hour away and South Nassau Dental Arts is definitely worth the trip!!
DAVID BRODSKY
How Long Will Treatment Take to Complete?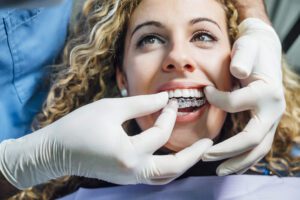 The length of the Invisalign treatment depends on the tooth movements needed to realign your teeth.
People whose teeth are slightly out of alignment may need relatively few aligner trays, especially when only their front teeth need straightening and treatment is more cosmetically oriented.
Some people who seek out Invisalign treatment will have previously worn braces during childhood but have had an orthodontic relapse during adulthood. Their teeth may still be relatively straight, but they have seen some significant movement that they now wish to correct.
People with more complex orthodontic problems and a poor bite will need more aligner trays to straighten their teeth.
When only a few aligner trays are required, treatment may be as quick as a few months. If more complex problems need correction, treatment can take a year or longer to complete. Dr. Shoukry will be able to provide you with a more precise estimate for Invisalign treatment after examining your teeth and jaws and conducting some diagnostic tests.
Is Treatment Uncomfortable?
People often ask if Invisalign will cause pain, and you may experience mild discomfort.
This is inevitable because your teeth and tooth roots are forced to move in your jawbone. Any discomfort is generally greatest when you first begin to wear a new set of aligners and should quickly disappear within a few days as your teeth become accustomed to the new aligner trays and the pressure placed on them.
Any discomfort should be easily controllable with over-the-counter painkillers, but if it feels too painful, you should contact us at once so we can help you and adjust the treatment plan as needed.
Will Invisalign Disrupt Everyday Life?
No, as Invisalign is minimally disruptive to everyday life. You don't need to do anything different when you brush and floss your teeth, and you can eat whatever you wish as the aligners are removed for meals and whenever you drink anything other than water.
When you start wearing the aligners, you may find them a little strange, but this is the case with any dental appliance, and they should soon begin to feel natural and comfortable.
While you become accustomed to the aligners, you may need to practice speaking certain words, and saliva production could increase slightly.
How Often Will I Need to See My Dentist During Treatment?
You will need regular visits to South Nassau Dental Arts dentistry, typically every six weeks, but these appointments are quite quick.
Unlike traditional braces, where you would need to see an orthodontist regularly for brace adjustments, we only need to check treatment is progressing as planned. We don't need to adjust the aligners, but we can provide more sets of aligners as treatment progresses.
Ensuring Invisalign Treatment Lasts for Life
Once you complete Invisalign treatment, you must wear retainers. These are essential for ensuring your newly straightened teeth do not try to shift back to their original positions. Wearing retainers is easy, using Vivera retainers made from the same comfortable material as Invisalign trays.
You simply need to ensure you wear your retainers as directed so you can enjoy the treatment results for years to come and hopefully for life.
Read more: Living with Invisalign
For more information about Invisalign in Rockville Centre, NY, or to schedule an appointment with the best in class dentist and experienced Invisalign specialist, Dr. Adam Shoukry, please visit the South Nassau Dental Arts or call us at (516) 763-4500.